Sri Lankan Food – FOOD LOVER!
|
For people who know me, food is kind of an obsession… Maybe because I'm French, but mostly because it is such a pleasure to eat and enjoy these moments in good company!
Asia is probably the place to live and travel for food lovers, proposing such a huge variety of spices, vegetables, fruits, seafood and so on. Here is some experience of the amazing Food in Asia.
Let's start with North India, the paradise country for vegetarian people. I never had so much of vegetables before living in India, and I could go for few days without eating any meat, without actually missing it. Rice and naan are served with delicious vegetable currys, from daal (lentils) to baigan bartha (mashed eggplants and green peas with spices, usually coming with a raita (yogurt mixed with onions, tomatoes and cucumber) to reduce the effect of spices. This is just a sample of the food diversity you can find in India. If you are a sugar lover, you will go crazy with the choice of cakes and sweets.
Did you know? For Indian population, the first reason for being vegetarian is the religion, but it's also an economic way of cooking, as meat is always more expensive than vegetables. This ancient habit of veg food is changing nowadays, especially in the main cities where the middle class can afford a more diverse diet.
Sri Lankan Food
Nowadays, my new home country is Sri Lanka, a place where spices in food is part of the culture. More than anywhere else, I have learned to endure spicy food here, when it's burning so much that you are looking for an extinguisher! The classic "rice & curry" is a must have, and a daily meal for most of the Sri Lankans. Delicious vegetable curries are coming along with rice and papadam, and a fish or chicken curry. The best is to try it in a local restaurant, to have the proper flavors of the dish. Some other specialties are string hopper, pittu, egg hopper, wattapalam…
Either you like spicy food or not, you will always feel pleasure with Sri Lankan food, as you can enjoy so many varieties of seafood. Relax on the beach, enjoy a Lion lager beer and order some grilled prawns, crabs, local fish or lobsters. Doesn't it feel like paradise?
Fruits
Last but not least are the tropical fruits you can find here. So many to try, especially when you come from a western country, and tropical fruits are a mystery for you. Have you ever heard of durian, rambutan or jackfruit? Probably not as they are only famous in Sri Lanka and some Asian countries. Fruit platter, fruit juices, it's a delicacy and a good vitamins cocktail!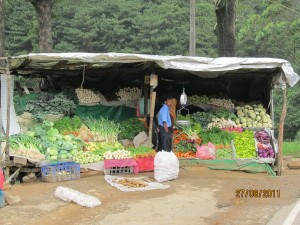 Now enough of talks, let's have some food!
Sri Lankan Vegitable Shop